Every year around 130,000 people go into care in the UK. In addition, there are those who receive formal care in their own homes and many millions more who rely on informal support from their families.
£7.4 billion was spent on care bills in 2018/19, and every week you will see reports of the devastation this causes to savings and investments built up over many years, as well as stories of the forced sale of family homes.
Despite these figures, people don't like to think about this and how it might affect them. A study by the specialist financial services group Just asked for their views: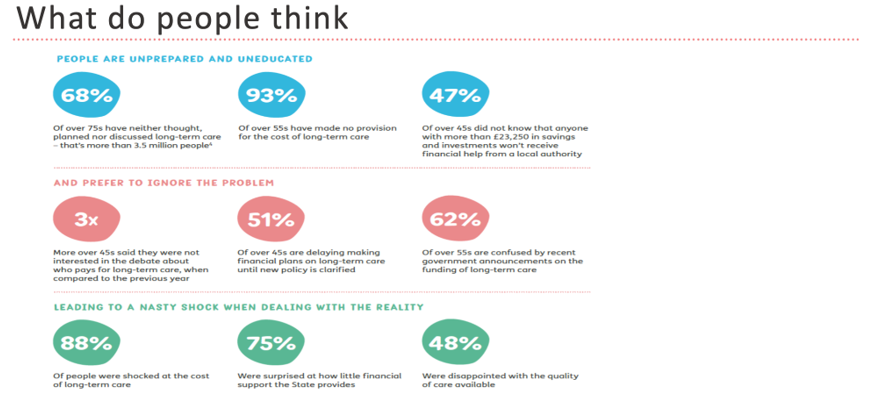 This suggests that a substantial majority of the population have not thought, planned or made any financial provision for what should not be seen as a surprising possibility.
It is certainly the case that the care system is incredibly confusing. If you Google 'long term care UK' you will find 1.34 BILLION results. Too much information can be overwhelming and result in no action at all.
Recent Government announcements have caused further uncertainty, with some saying they will defer any decision until the situation becomes clearer. That may be some while!
People often face a shocking reality check when actually having to deal with the problem, and this will usually be in crisis mode as something significant has happened. Decisions then need to made urgently, which is unlikely to ever lead to  great outcomes.
None of us wants to accept we or our parents are ageing, but so many of articles in the media are negative and depressing. Accepting ageing as inevitable, but not something to be feared would lead to better conversations within families:
Where do I want to live?
How can I stay safe and keep my independence?
How can I retain or even enhance my social relationships?
How can I balance my own security with supporting my family?
What does a good later life look like?